April 21, 2022, Feature, by Tara Eggleston Stewart, CPRE,M.S., M.S.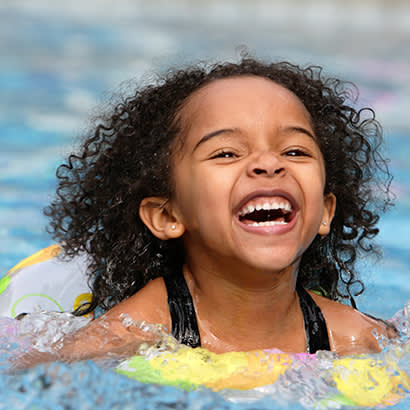 Best practices for water safety with an emphasis on equity and inclusion
May is National Water Safety Month! But before we take that first monumental splash in the pool, it is important that we take a moment to reflect on the critical need for water safety — especially within communities serving higher numbers of diverse and/or economically-disadvantaged residents and individuals with disabilities. May 15 is International Water Safety Day. Not only is this a time of celebration for the aquatics industry, but also it is a reminder of the need for increased water safety education, access to learn-to-swim programs and facilities, and implementation of drowning prevention strategies.
Fatal and non-fatal drowning in our communities is a national public health crisis, disproportionately impacting minorities and individuals with disabilities. These critical incidents can be prevented, and water safety education and drowning prevention strategies must be prioritized by the park and recreation field. What better industry than ours to provide public access to safely operated swimming pools, to train and develop aquatics professionals, and to offer water safety education and learn-to-swim programs for the community?
As park and recreation leaders, experts and users, we must commit to being inclusive and equitable regarding how facilities and programs are geographically located, funded, designed, operated and maintained. Park and recreation agencies are well-positioned to reduce drownings through learn-to-swim programs and the provision of water safety education, promoting the need for water competency, providing and/or allowing the use of U.S. Coast Guard-approved lifejackets for non-swimmers, and fostering a vigilant lifeguarding team through regular in-service training. We — the nation's park and recreation professionals — are the key to ending this public health crisis.
Creating Water-Well Communities
Fatal drowning and water-related injuries continue to be a growing issue within diverse communities and among individuals with disabilities. Some of the latest statistics tell us:
Sixty-four percent of African American, 45 percent of Hispanic/Latino, and 40 percent of Caucasian children have no/low swimming ability.
Seventy-nine percent of children in families with a household income less than $50,000 have no/low swimming ability.
Children who qualify for free or reduced school lunch programs are 63 percent less likely to have good swimming ability.
In swimming pools, African American children ages 10 to 14 drown at rates 7.6 times higher than Caucasian children.
African American children and youth are more likely to drown in public pools, and Caucasian children and youth are more likely to drown in residential pools.
Children with autism spectrum disorder are 160 times more likely to experience nonfatal and fatal drowning than their neurotypical peers.
People with seizure disorders, such as epilepsy, are at higher risk of fatal and nonfatal drowning than the general population.
There are several strategies used by The Maryland-National Capital Park and Planning Commission (M-NCPPC) to foster and to support the development of a "water-well community." What does it mean to be a water-well community? Water-well communities comprise residents, park and recreation agencies, and government officials who recognize the importance of keeping their communities safe in and around water through the provision of funded and accessible aquatics programs, services and facilities.
One of the strategies our aquatics program uses is developing water-
competent residents in Prince George's County, Maryland, through the provision of our learn-to-swim and water safety education programs for ages 6 months to 60 or more years. According to the American Red Cross, water competency is a way of improving water safety by avoiding common dangers, developing essential water safety skills to make you safer in and around the water, and knowing how to prevent and respond to drowning emergencies. Providing access to water safety information and learn-to-swim programs for all ages and abilities is an essential service for park and recreation agencies.
Our department utilizes resources granted to us through the American Red Cross Aquatics Centennial Campaign to support the development of a strong "Ecosystem of Water Safety" in Prince George's County. This generous support has allowed us to provide swimming lessons to children and to refund 50 percent of the lesson fees paid by caretakers if the children successfully complete learn-to-swim levels one through three and register for the next level swim lesson. The goal of this swim lesson incentive program is to create water-competent children who successfully complete levels one through three of our learn-to-swim program and who can navigate safely while swimming in our pools.
The Aquatics Centennial Campaign also has supported our "Lady Lifesavers" and "Guys Save Lives" mentoring programs, which provide free lifeguard prep swim lessons, lifeguard training and certification, aquatics career mentoring opportunities for teens, and employment opportunities with our department pools. The campaign also has provided funding to support free Water Safety Instructor and Lifeguard Management certification opportunities for employees interested in these higher-level opportunities. Providing these aquatics training and employment opportunities to predominantly African American and Hispanic/Latino residents further supports our goal of improving drowning statistics within these communities.
There are several outstanding learn-to-swim curricula used throughout the country. When selecting which program is best for your community, you will want to ensure the program emphasizes water safety education and skill building throughout the learn-to-swim levels. You will want to ensure the program offers instructor development and/or certification options to ensure the most highly trained instructors are afforded to your community and leading the organization's learn-to-swim program. Additionally, you will want to make certain the program provides inclusion guidance for instructors and/or training for modifying skills to accommodate learners of varying ability.
Providing water safety opportunities and access for individuals with disabilities or individuals of varying abilities has always been a priority for our department. We are fortunate in Prince George's County to have an outstanding Therapeutic Recreation and Inclusion Services team. These subject matter experts provide invaluable guidance and support for our learn-to-swim and adapted aquatics programs to ensure residents of all abilities can participate in group and individual programs. This team also is an essential resource when designing inclusive aquatics spaces.
Providing Inclusive Training and Facilities
M-NCPPC recently opened the Southern Regional Aquatic Wellness Center in Fort Washington, Maryland, providing the community with the department's first warm water pool that includes removable parallel bars, accessible pool ramps and lifts, water wheelchairs and walkers, and an adult-size changing table located within a universal (non-gender specific or family-labeled) changing room. To accommodate patrons with sound sensitivity needs, the pool area was painted using sound reduction paint. This facility was specifically designed with accessibility in mind, making this new aquatic wellness center a vital aquatics resource for individuals of varying abilities.
A new partnership the department recently launched is supporting efforts by the United States Coast Guard (USCG) to recruit and prepare diverse candidates for their swim-skill entrance requirements. Our department will provide swim lessons to USCG recruits and the USCG will provide funding to cover the costs of instruction for the recruit's swim lessons and for lifeguarding instructors, so the department can offer free lifeguard training and certification for our patrons. Offering free training and certification to employment candidates has been extremely helpful to recruit new lifeguards, especially as we emerge from the pandemic and are still addressing staffing shortages throughout the county.
From the operational perspective, providing well-trained and certified lifeguards and pool operators is another strategy employed by our agency. We place significant emphasis on monthly in-service training, annual aquatics team and pool operator refresher training, and adherence to local, state and national pool operating codes. Ensuring patron safety is a top priority and doing our best to provide the safest swimming pool experience is expected. Swimming pools are expensive to operate. However, publicly operated swimming pools are an essential community resource necessary for reducing fatal and non-fatal drowning. Communities need access to swimming pools for learn-to-swim programs, water fitness and employment opportunities.
Most aquatics professionals operating pools, including myself, started as lifeguards in their communities. Public swimming pools are natural hubs for producing the next generation of aquatics and park and recreation professionals. Swimming pools are an essential resource for all communities. It's critical for agencies and park and recreation leadership to advocate for keeping pools funded and accessible to communities most in need. You do not have to operate pools to become a water safety advocate and to promote water safety in your community. We welcome all allies in this mission to end drowning nationwide.
Prioritizing Diversity and Inclusivity in Employment
As communities nationwide increase in their levels of diversity, it is equally important for park and recreation departments to also embrace inclusivity and diversity within the employment process — and not just from the seasonal or part-time perspective, but also within the management and leadership structure. In Prince George's County, we are proud of the diversity we have been able to recruit, employ, develop and promote as leaders within the aquatics industry. For instance, our deputy director of recreation and leisure services represents the Hispanic/Latino community. I am the division chief for aquatics and athletic facilities and an African American woman. Our aquatics specialists, regional managers and facility managers also are direct reflections of the community we serve to include supervisors who are African American, Caucasian, Asian, Hispanic/Latino, as well as individuals from the LGBTQ+ community.
As you explore ways to improve inclusivity and equitable access to your aquatics programs and services, remember: Improving diversity in aquatics is not just an urban issue, it is a national issue. As park and recreation professionals, we have the power and resources to improve drowning statistics — one lap at a time!
To hear Eggleston Stewart speak more about National Water Safety Month, tune in to the May bonus episode of Open Space Radio.
Tara Eggleston Stewart, CPRE, M.S., is the Division Chief for Aquatics and Athletic Facilities with The Maryland-National Capital Park and Planning Commission's (M-NCPPC) Department of Parks and Recreation.